Sunday, April 20 2008 @ 10:40 PM EDT
Contributed by: Elroy Davis
Views: 4,846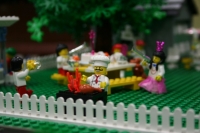 On April 20th, 2008, NELUG put on a small display at the Hooksett, NH Lion's Club Model Railroad Show at Cawley Middle School in Hooksett, NH. The display included a small town, farmland, a country fair, and several new and returning trains.
Though cows appeared all over the layout, a few stayed in the farm to keep the ostrich and giant bunnies company. Indiana Jones made a heroic appearance on a WWII themed train, narrowly escaping his foes by hanging onto the back of a German caboose. In another nod to history, a short Rutland train made its way quietly around the tracks, hauling marble, and occasionally Storm Troopers (We have a loose sense of history). As in the past, visitors were treated to a drive-in movie of themselves, thanks to a hidden camera aboard the mixed freight train on our third loop.
The crowd at the show was enthusiastic and friendly, as were our hosts, The Hooksett Lion's Club, making for a great weekend of railroading.
Photos of the show may be seen in our
gallery
.