Monday, March 31 2008 @ 10:03 PM EDT
Contributed by: Eric Kingsley
Views: 5,061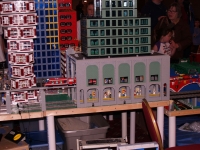 We once again had a fantastic time showing at the Greenberg. Once again we were in the Fez room which makes for an interesting environment. We are away from the hussle and bussle but it is a much more comfortable space. We seemed to have a ring of chair around the layout throughout the show and at times crowds were 3 or more deep around the entire layout.
There was an engine with a camera in it which was a big hit and the Duplo Shark attack was also quite popular. The ammusement area had a couple of new rides and the Medevil Fair is getting bigger and more popular. There were a couple new Skyscrapers as well which always makes for interesting changes/challenges with the skyline. The residential area was also packed with interesting things.
To view an entire gallery of images please click on the image to the left.