New England LEGO® Users Group
This is an Unofficial fan created web site. The LEGO® Company does not sponsor, authorize, or endorse this site.
Eric Kingsley
Scythe Squadron Cast of Characters
Back to Eric's Home Page


Eric Kingsley's LEGO® Pages
Scythe Squadron Cast of Characters

This is the Cast of Characters that I have come up with so far. Some of these Mini-figs I consider custom others are basically standard mini-figs that just have different heads.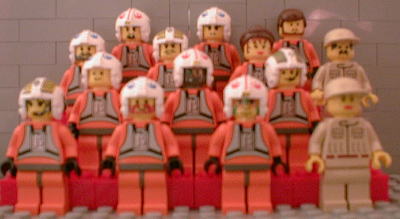 These are our pilots and some of the support crew. Yes there are women in our squadron and the support crew. We currently have 2 female pilots and 1 crew with more to come I am sure. You will notice that I have used a variety of heads on my mini-figs. This is so I can eventually give them personalities for a potential story board. Also notice that these heads come from a wide variety of themes including Insectoids, Ninja, Town, Rock Raiders, and Wild West (Both Native American and Cowboys). That is because they make great aliens as well as add variety.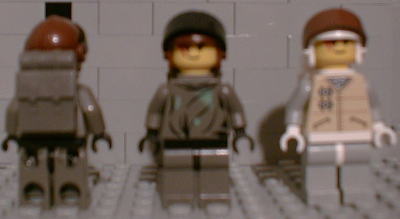 This is a Forest/Jungle soldier that I created. My first thought was that it had to be in the style laid out by the Hoth soldier from the Snow Speeder set seen hear on the right. This soldier uses the Jedi Luke torso with dark gray arms, black hands, black hips, and dark gray legs. I also use a dark gray backpack, the brown helmet found in the Naboo fighter, and a black visor. Of course use the head/face of your choice.

This is an EG-6 power droid.