New England LEGO® Users Group
This is an Unofficial fan created web site. The LEGO® Company does not sponsor, authorize, or endorse this site.
Eric Kingsley
Gonk
Back to Eric's Home Page


Eric Kingsley's LEGO® Pages
Gonk / EG-6 Power Droid

Click on images to enlarge.

This is the EG-6 Power droid better known as Gonk. Gonk first appeared on the Jawa Sandcrawler in A New Hope and has appeared in every Star Wars movie.

There has been 2 primary versions of Gonk with a third slight variant. The differances in the 2 primary models is the length of the body. The first version was 2x4, this ended up being unbalanced and I wasn't really happy with it. The second version was 2x3 and balanced, I was much happier with this version.

The third slight variant replaces the 2x2 plate and 1x1 round plate on the top of Gonk with one of the 1x2 click hinge plates next to a 1x2 plate. I am just happier with the way this version looks.

At the bottom of the page I have included a set of directions so you can build your own Gonk.


Let me know what you think on LUGNET.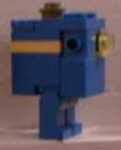 Here are both versions of Gonk. As you can see the smaller version works much better.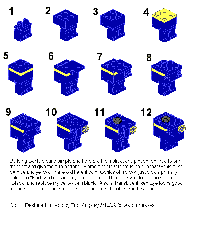 If you like Gonk and would like to build one yourself here is a set of directions. Just click to see a full page view of the directions.