New England LEGO® Users Group
This is an Unofficial fan created web site. The LEGO® Company does not sponsor, authorize, or endorse this site.
Eric Kingsley
Scythe Squadron Module 1
Back to Eric's Home Page


Eric Kingsley's LEGO® Pages
Scythe Squadron Module #1

Click on images to enlarge.

This is Module #1 for the Scythe Squadron Base.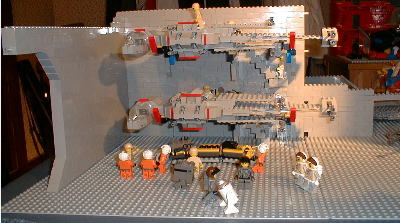 This is Module #1. Each module will be on one of the large 48x48 gray baseplates. The modules will be connected with Technic Pins which you can see in the upper left and along the right edge of the back wall. Here you will see the right hand side of the Hanger enterance. There are two racks for B-Wings. Each rack is outfitted with equipment for minor repairs and maintenance. For major repairs I am going to create a mobile maintenance sled that will allow the maintenance crew to effect major repairs.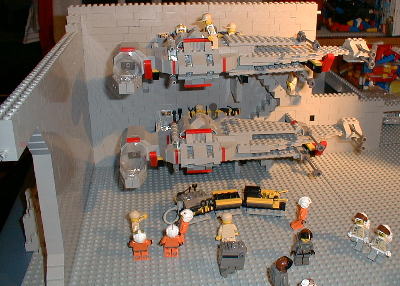 Another View.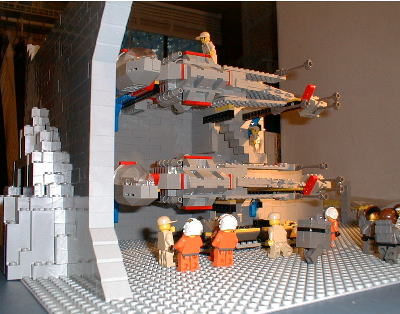 This is a cool view from outside the hanger looking in. You will see on the left hand side the beginings of the exterior that I have yet to decide the exact design for the exterior.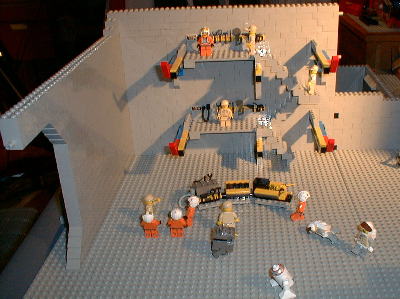 Here is a view without the B-Wings. You will see the Zig-Zag steps on the right and the tool racks along the back. (Oops!! seems we have a clumsy Hoth Trooper on the ground. Call the medics! :).