New England LEGO® Users Group
This is an Unofficial fan created web site. The LEGO® Company does not sponsor, authorize, or endorse this site.
Eric Kingsley
NELUG Containers
Back to Eric's Home Page


Eric Kingsley's LEGO® Pages
NELUG Containers

Click on images to enlarge.

These are some containers I came up with to help promote NELUG.


Let me know what you think on LUGNET.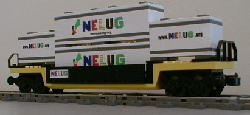 These are the containers

Nothing particularly special here. I used clear Avery mailing lables for the decals. They work pretty well although you don't want to touch them too much as grease does show up after enough contact.