Great Train Expo November 2006
Wednesday, November 22 2006 @ 10:02 AM EST
Contributed by: Eric Kingsley
Views: 6,057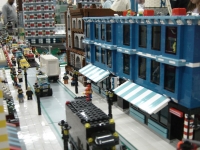 For the seventh year in a row NELUG has displayed a layout at the Great Train Expo (formerly Greenberg train and toy show) in Wilmington MA. As has been the case for the past couple of years we once again had our largest layout ever at 13'x26'.
This layout had 4 operating loops on the tables, another loop operating as a subway line, and our longest run of Monorail track seen to date. The amusement park has continued to grow and remains a strong focal point of the layout. The inner city while smaller included a river and one of our best town/residential sections.
The show itself appeared to be quite the success with more attendees than we could remember seeing for several years. There was even a vender selling significant amounts of LEGO for the first time including 9v train accessories.
From a club perspective setup was pretty intensive and brought us to our limits. We probably won't expand the layout significantly again until we become comfortable with this layout and have more help during setup. We also kept pace in being one of the quickest to clear out at the end of the show in less than 2 hours.
Our outside loop was bumped and derailed several times and one boxcar fell to the floor (twice) and needs a bit of repair. Thankfully it is LEGO so repairs should be relatively easy.
Please visit our gallery for the layout by clicking on the image in this article.