Thursday, November 30 2006 @ 09:34 PM EST
Contributed by: Mike Ripley
Views: 49,248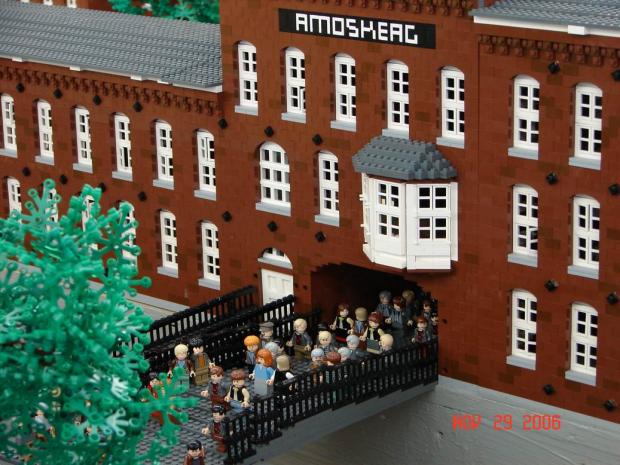 After nearly two and a half years of effort, NELUG is very pleased to announce the completion of the Millyard Project! On Wednesday, November 29, 2006 approximately 100 people attended the official dedication of the LEGO Millyard Project at the SEE Science Center in Manchester, NH. VIPs in attendance included the two main benefactors of the project, Dean Kamen, inventor of the Segway and founder of the SEE Science Center, and Kjeld Kristiansen, owner of The LEGO Company, who flew all the way from Denmark just for the ceremony. The ceremony, hosted by SEE's Douglas Heuser, started with short speeches from our two good friends, LEGO Master Designers, Steve Gerling and Erik Varszegi along with our own Joe Comeau. In addition to speeches from Dean and Kjeld, both the Governor of New Hampshire and the Mayor of Manchester also said a few words. There were about 20 NELUG members present who Kjeld readily greeted upon his arrival.
Everyone in attendance, including many long time TLC employees and Kjeld himself, were truly excited and amazed at the size, complexity and sophistication of the models in the display.
There was an incredible amount of effort put in over the last two and a half years, but nothing as intense as the five days preceding the ceremony. Erik and Steve worked virtually non-stop along with 10 NELUGers who burned more than the midnight oil to help out. Working 16 hour days, the team completed an amazing amount of building to bring the LEGO Millyard to life. The Kennard and Old Courthouse were finally brought to the deck and Pine Island Park was assembled which included a Ferris Wheel, roller coaster, carousel, swan boats, roller skating rink, bathhouse and so much more. The magnificent Notre Dame Bridge was also erected and extends right off the main deck right near the amazing cut-a-way of the Jefferson Mill, complete with a vast array of textile equipment. In addition to all of this, hundreds of carts and thousands of mini figs were placed throughout the nearly 2200 square foot display to give it the vibrancy of a bustling city.
Please visit our media gallery to see pictures of this amazing display by clicking on the photo accompanying this story and feel free to visit the SEE Science Center to see the real thing - even after seeing the pictures you will be amazed!